I love that True Blood always leaves us hanging at the end of each episode. That is why you can never stop watching it.
The plot lines for this season are already starting to develop. At the beginning of this episode, we see what looks like Warlow breaking through from some other dimension while Sookie (Anna Paquin) is sleeping.
Jason
We find out that Jason (Ryan Kwanten) wasn't with Warlow at all, but with his fairy grandfather. The fairy grandfather seems to have a lot more information about Warlow and hopefully will help prepare Jason to kill him.
Jason takes his fairy grandfather home to show him the portal where Warlow first appeared from. The fairy grandfather jumps through the portal for further investigation and discovers that Warlow has already broken through.
Jason introduces Sookie to their fairy grandfather. Sookie makes them dinner and he lets them know that Warlow is here. He tells Sookie that their family is from a royal bloodline, which means that Sookie is a fairy princess. Warlow massacred the fairy grandfather's village and killed off his entire family. Claudine blasted him to a dark realm where he had been for a hundred years, but now he is free and out to get the family.
Vampires (Pam, Tara, Eric & Nora)
We last left Fangtasia with the SWAT team shooting Tara (Rutina Wesley) with some sort of silver bullet that emits UV light. Eric (Alexander Skarsgard) saves the day and pulls it out of her. This prompts Eric to wonder how they got this sort of technology.
Tara is still wearing her two tone leather jacket (Q40 Viper Jacket, $616). The jacket is sold out, but there is one available on eBay.
ID Source: ShopYourTV
Nora (Lucy Griffiths) is still trying to decipher the text about Lillith to figure out what Bill is. There is still a lot of distrust from Pam and she is very angry with Eric.
In the meantime, Eric decides to pay the governor a visit to learn more about his master plan.
The governor's daughter Willa (Amelia Rose Blaire) wears the Penrose Dress from Anthropologie. Unfortunately, this is also sold out, but I found a similar tea dress at Nordstrom for $92.
Eric has taken on the persona of a reporter to get in to meet with the governor. Eric tries to glamour the governor, but we find out that he has created special contact lenses that are impervious to glamouring.
The governor tries to take Eric to "camp" but he flies off before they can get him. He pays Willa a visit in her bedroom right after she has taken her special contact lenses out.
At the end of the episode we see Tara wearing a Rag & Bone jacket ($346.50), there is also a similar version at Nordstrom ($575):
Jessica & Bill
Bill (Stephen Moyer) is having some crazy visions and still isn't sure what his new powers mean. He communes with Lillith (Jessica Clark) and she tells him that events have been set in motion. She tells him that a tyrant is rising and that Bill must complete her work. She explains that God created her and then Adam and Eve, that she is not a god and neither is Bill. She tells Bill that he has to save all of the vampires and that he will know what to do.
Jessica (Deborah Ann Woll) wears a Honeydew Lace Sleep Tee ($45). It is sold out in blue, but you can still get it in grey, black or pink.
ID Source: ShopYourTV
Jessica decides to get Bill someone to eat in hopes of snapping him out of his comatose state. He ends up killing the woman from Human Edibles and leaves Jessica to clean up the mess.
Bill finally comes out of the coma and sees a news report of a vampire being dragged by a truck. They realize that he had a vision of this before it happened. Bill then gets a vision of all of the vampires being burned together in a white room.
Sookie
Arlene (Carrie Preston) wakes up Sookie to remind her that she still is a waitress and has a shift at Merlotte's.
On her way to work she runs across someone who needs help and she tries to ignore it, but can't. It turns out that the victim is also a half-fairy like Sookie.
Sookie wears the Taylor Short Boots by FRYE in cognac ($348). They are still available in dark brown, black and smoke.
ID Source: True-Blood.net
She also wears a Purple Denim Jacket by J Brand which is sold out. I found a similar colored Denim & Co. jacket at QVC for $44.50:
As she takes care of her guest, she wears a floral lace zip up hoodie from Aeropostale, which is sold out, but there are still a few left on eBay.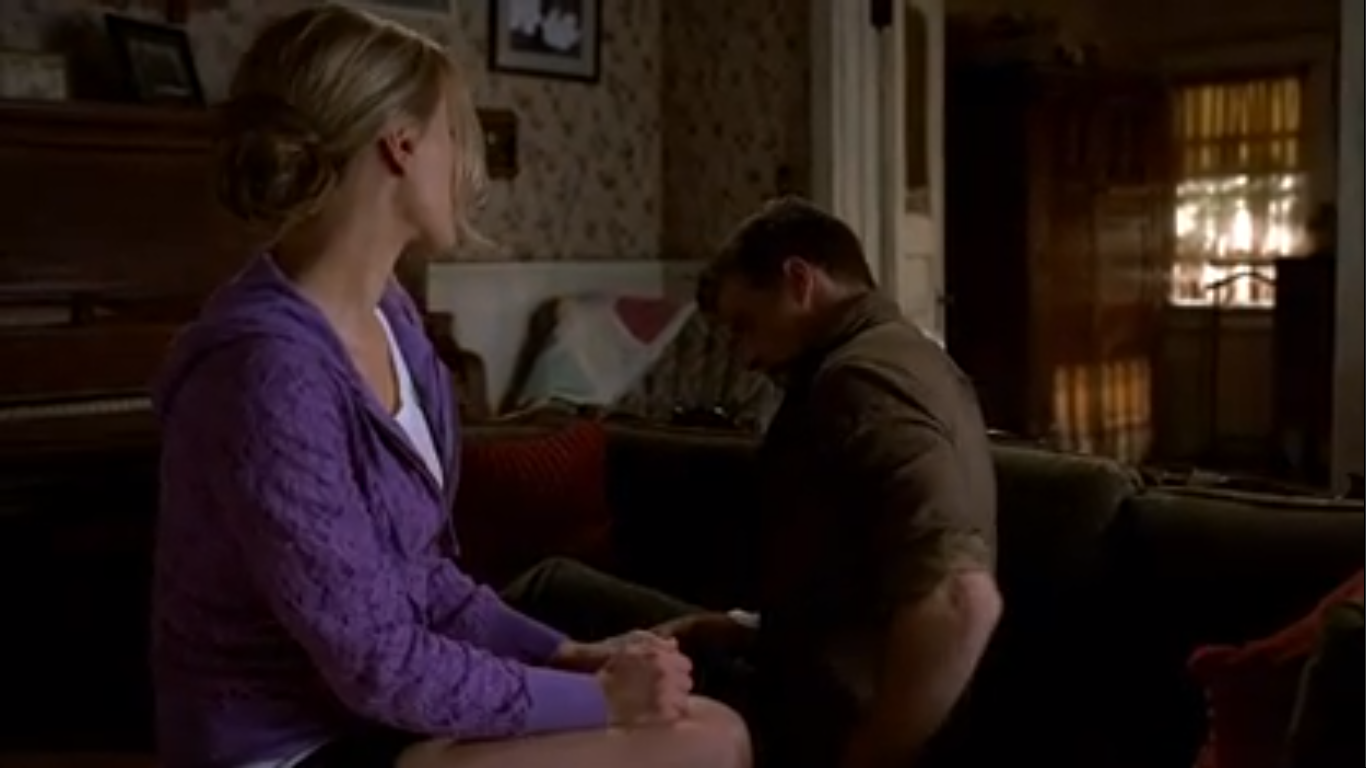 Sookie walks him to the fairy haven so he can recover. He tries to ask her out, but it doesn't go very well and they part ways.
Sookie learns that she has the power to protect herself with one giant fairy blast. Once she uses it she won't be a fairy anymore, but she can at least take out her attacker.
Arlene & Terry
Patrick's wife comes to visit Terry (Todd Lowe), to try to find out what happened to Patrick. Arlene covers this up and tells her that Patrick ran off with another woman.
Sam
Sam (Sam Trammell) is visited by Nicole from the US Vampire Unity Society and she wants him to lead the charge and comes out as a shifter and reveal all of the other supernatural beings.
Sam is hiding Emma (Chloe Noelle) with Lafayette (Nelsan Ellis) back at his house. The wolfpack arrives to take Emma back with them to their pack. Alcide (Joe Magniello) tells Sam that Emma is coming with them and doesn't give him a choice. Things get ugly and the wolfpack turns on Sam and Lafayette, taking Emma with them.
Andy
Andy (Chris Bauer) is still dealing with the aftermath of his fairy babies, who are growing at a rapid rate.
What did you think about Episode 2? I'm not sure I like the path that Alcide is going down, he is getting really dark. What will Eric do to the governor's daughter? Will Bill be able to save his friends? Does Sookie have a new love interest?
If you missed this week's episode, you can still watch it online here.
For more True Blood recaps click here.