This week's episode begins with another one of dear old Dad's challenges. He tells them that they need to appreciate the birds of Granby, a simple assignment but one with a lot of hidden meanings.
Chloe (Becki Newton) is wearing a plaid blouse from Equipment. Her color is sold out, but you can get it in green or blue here ($208):
The siblings head out to the park to "appreciate the birds" and they run into Piper's mother, Hannah (Janina Gavankar from True Blood). We learn how she met Jimmy (TJ Miller) and how Piper (Kaitlyn Maher) came about.
Hannah is wearing a Free People Henley shirt in Indigo ($68):
Henry (Scott Foley) and Chloe wonder why Jimmy has never introduced them to Piper. They decide to forgo the birds of Granby mission and help Jimmy bond with his daughter. They give him a makeover, getting him to wear Henry's clothes, which fit him poorly. As they arrive at Hannah's house to make a good impression, Jimmy chickens out and decides to go through the window instead. This results in Jimmy knocking down the trellis: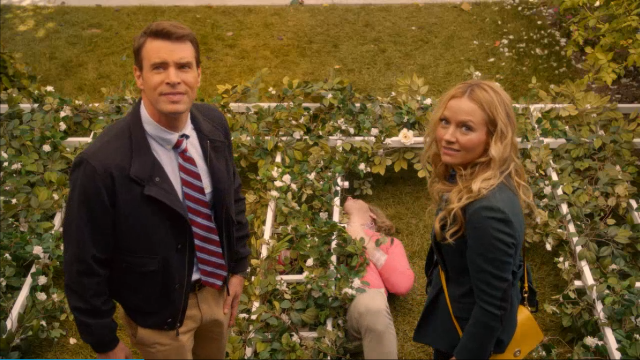 Chloe accessorizes with the Coach Legacy Leather Penny Shoulder Purse ($198):
The siblings finally meet Hannah, Piper and Chad (Hannah's fiance, guest star Chris Diamantopoulos). Chloe tries to find ways to bond with Piper and they start by playing a game of chess. Jimmy works on impressing Hannah and Henry helps Chad fix the trellis.
Hannah wears a Splendid Henley top ($110):
It is hilarious to watch Henry try to bond with Chad, who is also a "doctor." Henry is really impressed with Chad and his small town practice and he all but signs up to partner with him. Everything is going great until Henry finds out that he is a Natureopathic doctor and the deal is off.
Chloe takes the third degree from Piper about how her life has turned out. Piper also gives her a run for her money in chess. We find out that Chloe's dad taught her how to play chess. One of the best moments in this episode is when Piper asks Chloe her advice on how to turn out better than she did. Chloe says that she wishes she would have learned how to fail, which is great advice.
Jimmy tries to convince Hannah that he has changed and is responsible. Hannah doesn't believe any of this and Jimmy makes a mess of things again.
All of the siblings do a terrible job of impressing the family and they are asked to leave. One of the most heartbreaking moments is when Piper gets hurt and she runs to her "daddy," which turns out to be Chad, not Jimmy.
Henry and Chloe made Jimmy look better by default and Hannah tells Jimmy that she wants him to be a part of Piper's life, but only if he can clean up his act.
Just when we think this week's mission is a bust we learn in a flashback that Piper's chess teacher was really Mr. Goodwin and that Piper did have a relationship with him after all. Hopefully, this will come out before the series ends.
For more Goodwin Games recaps click here.
If you missed this episode you can still watch it online here.
What did you think of this week's Goodwin Games? I think this show is starting to grow on me, which is too bad because we only have two episodes left.