We begin this episode entrenched in the new show format. Dani (Callie Thorne) is making herself right at home at V3 and she has really stepped up her wardrobe:
Dani wears a navy Michael Kors halter top, which I couldn't find, but I did find a similar one at Cache ($58), a Burberry Layered Mesh Pencil Skirt ($425), a Gucci Leather Horsebit Belt ($275), Gucci Peep Toe Buckle Pumps ($615) and the Michael Kors Jet Set East West Top Zip Tote ($248) we saw in last week's episode: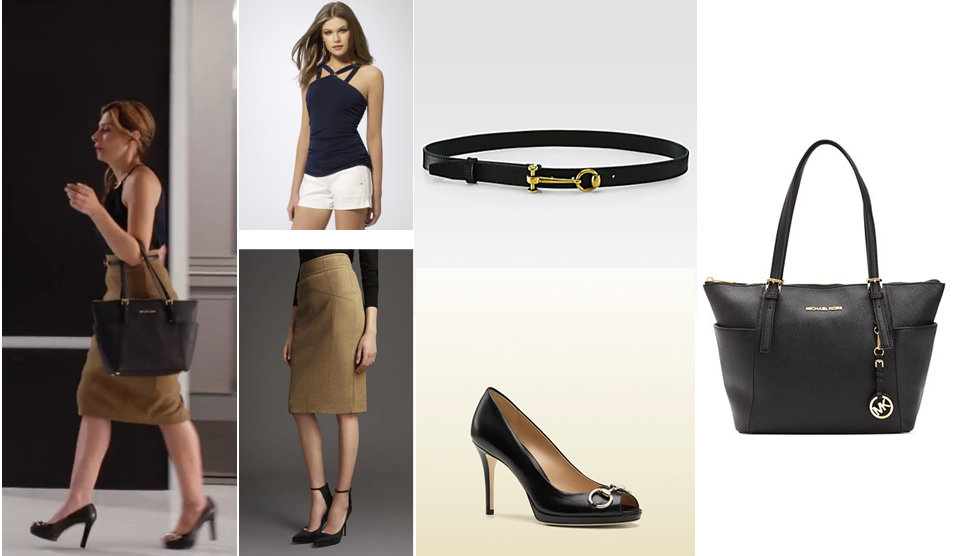 ID Source: Glamazon Diaries
UPDATE: It looks like the Cache halter top is no longer available, so you might try this Trina Turk Draped Halter Top from Nordstrom.
She immediately runs into Paloma (Karissa Lee Staples), her new assistant, who gives her the lowdown on V3 and her new schedule. Dani tries to refuse some of the V3 amenities to no avail. Paloma is wearing a Diane Von Furstenberg dress ($303.42):
ID Source: Glamazon Diaries
Dani attends her first staff meeting and receives her new client, Buttons a.k.a. Cindy Luck (Johanna Braddy), who is a former child star who has a mess of problems. V3 is responsible for keeping her in line while they try to rehab her image. Dani will have to work with Nico (Scott Cohen) on this case to keep Cindy in line.
Troy (David Anders) pulls Nico aside to let him know that he wants Dani gone. Nico says that he will take care of it. We still don't know what he's up to.
TK (Mechad Brooks) is still adjusting to the new Hawks coach. He stops in and tries to meet with Dani, but she can't help him because she has an exclusive contract with V3. TK sees an easy solution to that problem by becoming a V3 client himself. Connor (John Stamos) tells him that his image needs some work.
Dani gets her first taste of Buttons and it is not a good one. We learn that Cindy is obsessed with her boyfriend, Dylan and that she gets hives when she is stressed. Cindy ends up taking too much allergy medicine and it looks like she overdosed, but she really just fell asleep. Her boyfriend Dylan called to break up with her and it sent her into a spiral. Dani gives her some good advice and says that after a breakup we do a euphoric recall, where we only remember the best parts of the relationship, but don't remember the bad parts.
We get a close up of Dani's tortoise Tory Burch Resin Logo Cuff ($50):
TK talks to Rex (Travis Smith) about V3 and we find out that he also signed with Connor which probably means that we will see him back as one of Dani's clients soon. Connor brings TK Machismo, sort of like a younger Old Spice, as his first advertising campaign. TK isn't very excited about this, but he needs to nail the meeting first.
Paloma brings Dani lots of extras, a company car, phone, American Express Card and lots of designer clothes (Prada, Marc Jacobs, Dolce & Gabbana, oh my!). I love Dani's white on white look here and found this white Jones New York Blazer ($79) that is similar to hers:
I found a great lookalike for Paloma's navy dress with this Kasper sheath ($62.99):
Dani gets ready for a dinner date with Connor in what looks like this Dolce & Gabbana ruched dress ($2125). This satin cowl neck dress from David's Bridal ($139) is just as sexy, with a smaller price tag:
Their dinner date goes well and we learn some of Connor's backstory. He came from a dysfunctional family and went to the University of Michigan (shoutout GO BLUE!), started managing athletes and turned it into V3.
The next day Dani and Nico meet Cindy on set for her nude scene, everything seems to be going fine, until Cindy disrobes and we see find out that she got a brand new tattoo on her back that says "Lars4Eva."
Dani is wearing a green halter top (I found a similar top from Vince Camuto $37.97), with a black pencil skirt and the Gucci Peep Toe Buckle Pumps ($615) and Gucci Leather Horsebit Belt ($275) again:
Meanwhile, TK takes a dinner meeting with Machismo, the men's fragrance line. Unfortunately, Marci,the client (Lindsey McKeon) comes on really strong and TK feels like he might have to sleep with her to close the deal. He is trying to be professional and rehab his image. She also tries to get TK to get her some cocaine, which is a problem because he is a recovering addict. He tries to call Dani for advice, but then he gets a lucky break when a purse snatcher runs off and he starts chasing him.
Dani does her usual client research and discovers that Cindy has had a string of boyfriends. Then Cindy and Nico show up at her door and we find out that Dylan put out a restraining order for Cindy and she has to stay away from him. Dani wears a red Helmut Lang Asymmetric Marled Pullover ($150):
Nico discovers that Dylan and Cindy had only been on three dates and were never really together in the first place. It looks like Cindy is a stalker. Dani and Cindy have their second therapy session and really start to uncover some of her issues. Dani diagnoses her with Love Addiction.
TK meets with Connor again and he reveals that Marci was a test, but it worked out because TK catching the purse snatcher ended up getting a ton of hits on Twitter. This ended up being great for his image and his new campaign will be "Do Good, Smell Great." At the end of the day he gets to see Dr. Santino again.
Dani sits down with Connor to recap at the end of the day and he gives her a little more insight on his first deal, which was with the Yankees. She says that people are more afraid of success than failure, because they don't think they deserve it which is interesting advice. Dani decides to stay at V3 and take advantage of all of the amenities they are offering.
At the end of the episode we find out that Nico is meeting with someone and providing them with information on V3. He is trying to get Dani out of the organization so she doesn't get hurt. I hope they get past this and are able to get together at some point this season.
What did you think of Gimme Some Lovin? Do you think that Dani and Nico will ever get together?
In case you missed it you can still watch the episode here.
For more Necessary Roughness recaps click here.