I'm still working through the Bachelorette, so bear with me. Des had some great pieces that I want to make sure to share with you. On Episode 7, Desiree and the guys continued their journey and visited Madeira, Portugal. They seem to arrive to the island on a huge ship, it looked pretty awesome! Desiree wears a white jean jacket and a beautiful floral scarf. I found a white Levi's jean jacket ($51.99) and a similar floral scarf ($19.99):
Desiree tells us that there are no roses on any of the dates this week, wait – isn't that Chris Harrison's job? In any case, Des needed some help from her friends so she invited Catherine, Leslie and Jackie from Sean's season out to help her with her decision.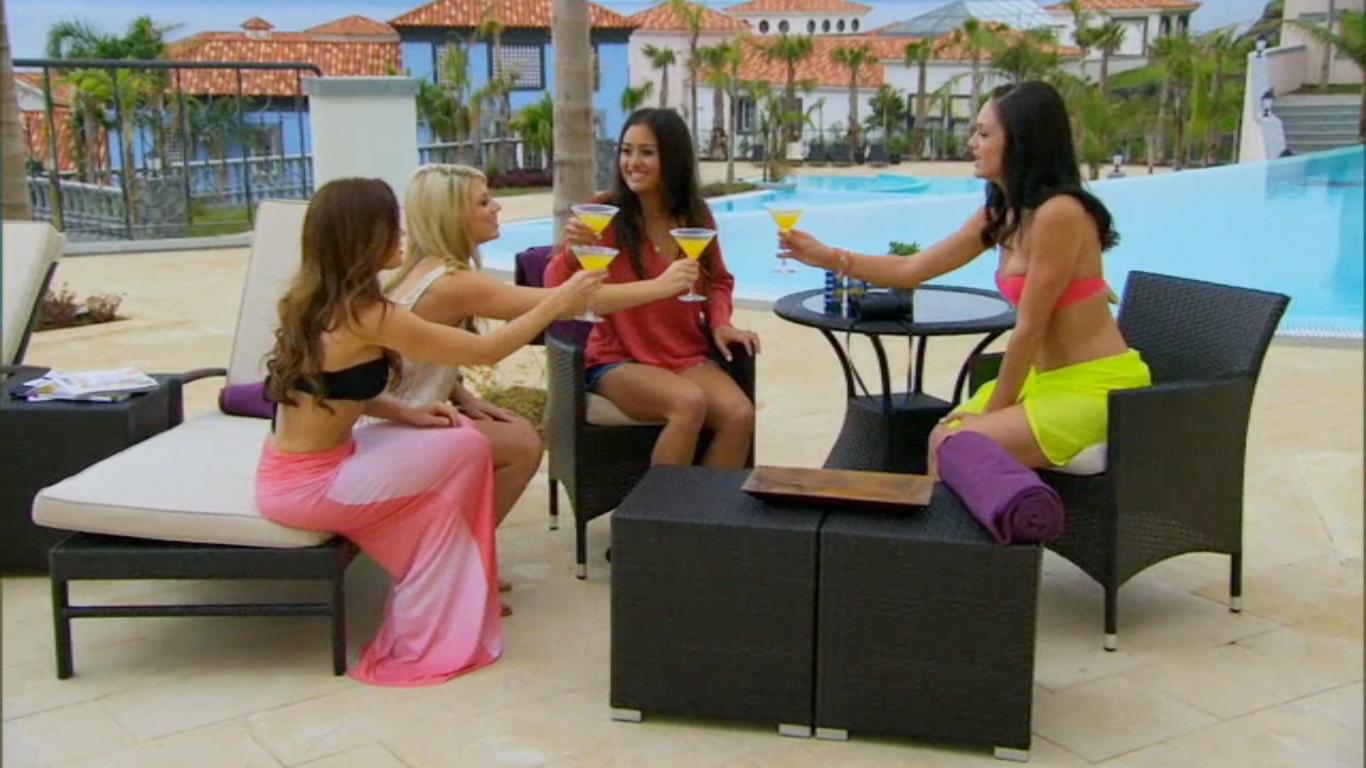 I loved Jackie's look and tried to recreate it with this Peach Stretch Jersey Maxi Skirt from Kamishade ($49.50) and this Shapely Ruched Bandeau from Venus Swimwear in deep navy ($26):
    Catherine was wearing the Stella and Dot silver charm necklace ($26) and paw print charm ($26):
The girls proceeded to engage in lots of girl talk about the different guys and it was interesting to see which guys Desiree was really into. That's the one thing about these shows that is so weird, (aside from the obvious), as a girl, you are so used to gushing about the guy you like to your girlfriends over and over again. Desiree doesn't have the chance to do that at all and I sometimes think all of that talking helps you figure out how you are really feeling.
Brooks gets the first one-on-one with Des this week. It is interesting how he starts by saying how important this is because he is going to decide whether or not he wants to introduce her to his family. That statement makes me think he really isn't that into her. The start the date with a picnic and a trip to a cliff overlooking the water. Des wears a flowy white and teal colorblock tank with studs from Romeo & Juliet Couture ($118). Her earrings are the Faidra from Brooklyn Designs ($39) and her ring is the Bailey from Robyn Rhodes ($68-74):
They get to go up a mountain that peaks through the clouds, so it is almost like they are floating on Cloud 9. This date is so weird, in the car he wants to come up with words between like and love. He also keeps saying that falling in love with Desiree would be awesome, but it's clear he isn't there.
Back at the hotel, a new date card has arrived for Chris, it says "Let's SEA if we can find love here."
Brooks and Desiree have a nice dinner, but they come up with this whole stepping, skipping, running analogy for falling in love. She says that she is going into a run and he is only jogging. I feel like alarm bells should be ringing for her now. Des wears a Sequin Embellished Mini Skirt from Express ($59.90):
ID Source: Possessionista
Chris gets the next date and they go out on a boat to travel to their very own deserted island. Desiree wears a multicolored stripe dress with an open back from Romeo & Juliet Couture ($155):
Both Des and Chris mentioned their chemistry and passion during this date and it seems like they are both on the same page. I'm just going to breeze over the rest of this because there is more poetry…totally not my thing.
The next date card arrived at the hotel for Michael and it reads "Michael, let's have fun in Funchal."
Chris and Des get to have dinner at a winery called Blandy's. Chris decides to tell Des that he loves her and guess what that means? Another poem! They both seem happy and giddy after he finally says the words. Des wears a Haute Hippie sequin mini skirt. I found one here on eBay and I found a dress in the same pattern here.
Michael and Desiree get to explore the city on their date. During the day, Des wears the Free People Lima Cardigan (it looks like they might restock it, but there are plenty on eBay here), the Aspen necklace ($95) and Blair earrings ($59) from Brooklyn Design.
For the evening portion of their date, they have a romantic dinner in the middle of the street and are seranaded. She wears a white tube dress, a dark denim jean jacket ($68) and the Olivia Bib Necklace from Stella and Dot ($118) I found a few dress options at Bebe ($59) and Herve Leger ($189):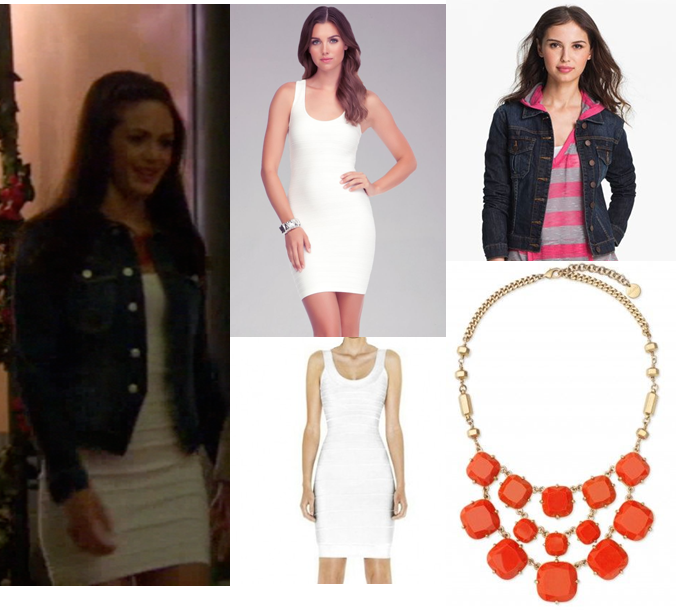 Back at the hotel, the last date card comes, a two-on-one date with Zak and Drew where a rose is up for grabs. The card reads "I'm looking for a man who can make my heart race."
Desiree takes them on a racing date where they get to race around a crazy race track in go carts. Zak wins the race and gets the first one-on-one moment with her. He is totally head over heels for her, but I don't think she feels the same way for him. Zak is my favorite this season.
Drew seems like such a nice guy, but he does absolutely nothing for me. He's just not my type. It seems like Des likes him more than she does Zak, she confirms this when she gives the rose to Drew.
At the rose ceremony Des wears a beautiful Randi Rahm dress. You can get the look with this Asos Maxi Dress ($24.47):
During her talk with Chris Harrison, she tells him that she has already fallen in love with Brooks, but that she still wants to keep an open mind. It sounds like he isn't quite there yet.
She gives roses to Brooks, Chris, and Zak and sends Michael home. I thought it was weird they let Michael call his mom, I thought they weren't allowed to tell anyone the outcome of the show. Odd.
Coming up next week, hometowns…we will see how Desiree interacts with the families.
What did you think about Week Seven of the Bachelorette?
If you missed this episode you can purchase it for $1.99 on iTunes.
For more Bachelorette recaps, click here.