This week, Dani (Callie Thorne) treats a self-help guru (who doesn't believe in therapy) who wants to commit suicide. Sound like a challenge? Not for Dr. Santino. Dani is fresh off her trip to Idaho with Connor (John Stamos) and having a great time at V3. Paloma (Karissa Lee Staples), her assistant, pushes her to have more of a social life and invites her to a V3 Girl's Night Out. Paloma wears a Joie Pearline Snake-Print Blouse. Unfortunately, this is sold out, but I love Joie blouses and am always shopping for them on eBay. Joie has a few similar animal print blouses including the Gudelia Top ($258) and the Purine Top ($238).
Connor takes Dr. Dani to meet Nolan Powers (Ioan Gruffudd), a self-help guru who doesn't believe in talk therapy. Dani wears a sold-out Lida Baday Colorblock Stretch Knit Dress. There are a few white ones left on eBay, but I found a similar dress from Trina Turk ($298):
Meanwhile, TK (Mechad Brooks) is enjoying his sobriety by hooking up with his new friend, Sheera (Kate Miner) that he met at the V3 party last week. Sheera is giving TK a run for his money and she actually leaves him a parting gift on her way out. TK needs a challenge and this is an interesting turn of events for him. TK hunts Sheera down and tells her that he wants to attach strings.
Before Dr. Santino can talk to Nolan, his wife interrupts them and steals him away for lunch, leaving Dani puzzled at the whole situation. She mentions it to Connor, who brings it up to Nolan, but Nolan just brushes it off.
We finally find out more about what Nico (Scott Cohen) has been up to. When he worked for Marshall Pittman, he did a lot of illegal things so the Feds are blackmailing him to do the same for V3 and in return they will wipe his record clean.
TK visits Dani for their regular session and he is gushing about his new relationship with Sheera. He decides that Dr. Santino needs to "get some" of her own and offers to set her up. She turns down the offer, but decides to go to the V3 Girl's Night Out instead. Dani wears the Joie Siegal Split Neck Top which is also sold out, but you can hunt a few down on eBay.
Dani is having a great time at the V3 GNO, when she is hit on by one of the other agents for her patient, Cindy Luck (Johanna Braddy). He comes on strong and it seems like this might have been something of a set up.
The night is interrupted by an emergency call from Nolan Power's wife. She brings copies of Nolan's emails to Dani and they discover that he has created a fake email account to talk to 12-year old girls, a very serious charge. Dani confronts Connor with this information and leaves him to address it with Powers. Powers denies it and demands to take a lie detector test to prove his innocence.
Dani wears her navy three-quarter sleeve blazer ($89.95), a turquoise tank top ($20.99) and carries her Michael Kors Handbag, Jet Set East West Top Zip Tote ($248)  in luggage: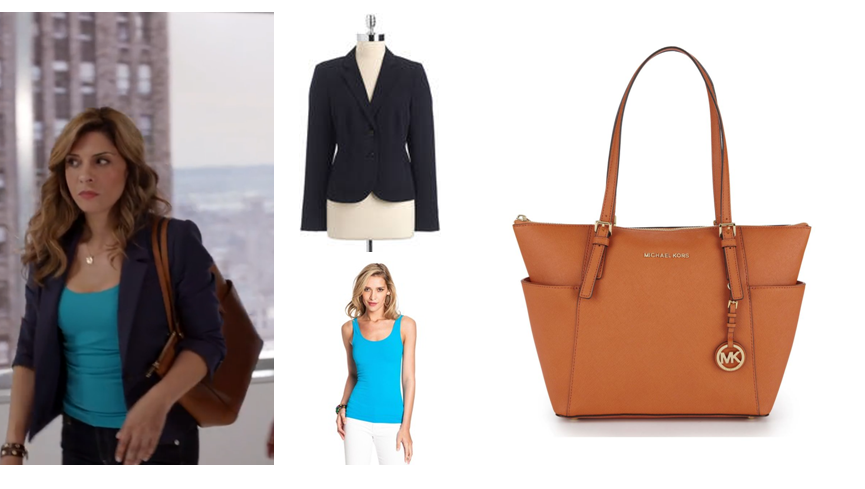 TK has dinner with Sheera and finds out that there is more to her than meets the eye. She is a highly-educated Stanford graduate that has lofty goals and ambitions. This is all starting to seem too good to be true. She wants to team up with TK to create a special lingerie line. I see warning flags here, this is all moving way too fast. I was right on this account, Sheera ends up presenting the idea to Connor without TK. He catches her and kicks her to the curb before she can explain.
Nico stops by to tell Dani that Nolan passed the polygraph test. Dani gets a frantic call from Nolan and her and Nico run out to meet him at his hotel room. When they get there he is gone but there are stickers, toys and cartoons all over the room. I am thinking maybe a multiple personality disorder, which could explain all of Powers' migraines.
Dani wears a Theory Yaisa Leather Sleeve Open Blazer ($445) which is still available in black:
Nico finally tracks him down – he was arrested for trying to burn down his childhood home. The police are holding him, but they said he was disoriented. Right again! When Dani tries to talk to powers, she discovers an eight-year-old boy named Scotty as one of Powers' other personalities. Dani is able to explain the symptoms to Powers and discover that he has repressed this personality because of the abuse he experienced as a child.
Connor loves the Brickhouse lingerie idea and encourages Sheera and TK to kiss and make up so they can launch this new endeavor together.
Nico does his job for the Feds and he asks in return to go visit someone stuck at the Immigration named Alex Careles.
Connor and Dani meet Nolan Powers at the book signing to discover that he won't go to a therapist. His alter ego, Scotty, writes Dani a note that says "At least we tried." Connor doesn't believe what he is seeing.
Back at the office, Paloma scolds Dani for passing up a great time with Cindy's agent (is it sad that I can't even remember his name?). He stops in and invites Dani out to drinks, then he propositions her to come up to his hotel room, which she accepts!!! Didn't see that one coming.
Paloma wears a Diane von Furstenberg Jeanne Two Chain Link Wrap Dress. It is sold out in the purple color, but there are a few on eBay. The red version and the red and black version are still available.
What did you think about this week's episode?  Who do you think Nico is visiting? Maybe a son? What repercussions do you think Dani will experience after sleeping with her new friend? Will Nolan Powers ever get help?
If there are any items that you would like me to ID or find alternate looks for, please post them in the comments below.
In case you missed it you can still watch the episode here.
For more Necessary Roughness recaps click here.