The new format of Necessary Roughness takes a little getting used to. I find it a little odd that we are being pushed to forget all of the old storylines and just move on. In the beginning scene of this week's episode it is really obvious that the show is trying to account for these loose ends because we see Dani (Callie Thorne) trying to contact her son, Ray Jay to no avail. It is weird that her kids haven't really been present in the first few episodes and we really don't know what happened with Juliet and Ray Jay.
I'm willing to accept the new format, but anytime they address the old stuff I think it comes off as very awkward in the flow of the show. I am interested to see how this will work in the next few episodes. I hope everything will come full circle.
Dani attempts to make her daughter, Lindsay (Hannah Marks), breakfast but she has to run out the door.  In this scene she is wearing some of he fashion staples from last week including her Gucci Peep Toe Buckle Pumps ($615), her Gucci Leather Horsebit Belt ($275) and her Michael Kors Jet Set East West Top Zip Tote ($248).
I was finally able to identify her "D" charm as the Alphabet Charm from Helen Ficarola:
As she heads off to V3, Dani runs into TK (Mehcad Brooks) showing off his first print ad for Machismo. He is proud of his new ad and that he has finally reached his one-year anniversary of sobriety. Paloma (Karissa Lee Staples) interrupts with Dani's schedule and lets her know that Friday night is MV3, a monthly cocktail party where Connor (John Stamos) gives out a bonus check to an MVP for the month.
Paloma wears a black peplum dress. I found a similar dress from Alice + Olivia ($264):
Connor takes Dani to a basketball game to meet a potential new client. Everything seems to be going smoothly, until one of the players, Devon Langer (Sinqua Walls), gets a little out of control on the court. The catch? Langer isn't one of Connor's clients, but he wants Dani to help bring him in. Dani agrees to help Langer, as long as she can focus on helping him and not try to win him over to the agency.
She layers her navy blazer from the season premiere (Calvin Klein Navy Blazer $89.95) with the Joie Rancher Top ($158), her Helen Ficarola charm (see above) and an Anna Beck Bali Cuff ($412):
Dani meets with Langer (who mentions he grew up in Detroit – shoutout!) with his single mom. Langer's free throw percentage has gone from 80 percent to 40 percent in the past year, so Dani tries to figure out what has changed in his life. Dani starts working with Langer on his muscle memory and gets him to focus on going back to the basics of his free throw. Everything is going great and we get to meet Langer's mother, Lana (Gabrielle Beauvais), who is more like a friend then a mother.
In the meantime, Connor, Troy (David Anders) and Nico (Scott Cohen) are dealing with an attack on V3. Someone has messed with the phone system and Connor thinks that another agency is going to try and steal clients. They get the phones back up but find out that they've been hacked. Connor receives a mysterious package of  "dirty laundry" from SBG Managament, the agency that represents Devon Langer.
Back at V3, Paloma (Karissa Lee Staples) fills Dani in on the phone system crisis and the V3 agency party. Paloma wears a sold out L'Agence Pleated Bodice Dress. I found a similar style from Calvin Klein ($96):
Nico and Troy figure out a way to get back at the hackers by giving them a code that can be downloaded, in essence hacking the hackers. Troy doesn't seem to trust him just yet and we realize just how paranoid Troy is when he has Nico followed.
At Langer's game everything is going great and he takes Dani's advice on his free throw. It works and he gets a great momentum going. Unfortunately, he starts to lose his focus when Lana starts a fight with the referee getting them both kicked out of the game.
Now that TK has reached one year of sobriety it means that he can start dating again. A woman approaches him and asks him on a date because of his new Machismo ad. TK is pleased because he's still got it! TK's date with Abby (Autumn Reeser) goes very well until he finds out that she is a managing partner at SBG and that their "date" was really a sales pitch. She gets his attention by promising him loyalty…and Nike.
Dani meets with Langer and his mother, Lana for a session to work through their problems. She tries to get them to set some boundries, but Lana blows up at Dani and Langer defends her. The session ends badly with Lana and Langer storming out.
TK comes to Connor to inform him about his "date" with Abby a.k.a. "Bruce." Connor tells TK that V3 has a 98 percent retention rate but he is free to leave anytime. The caveat is that once you walk out on V3 you don't get to come back. TK decides to stay at V3 in the end. He also meets a beautiful model at V3 who just became a new client. Will she be a new love interest for TK? 

Dani meets with Langer to try to help him again. She has discovered his real problem is that he has anger and tension towards his mother. Langer also has tension directed at his teammate, Kyle Burke, who we discover is sleeping with Langer's mother.
Dani wears her white blazer from Episode 2 (Jones New York $79), an orange and white print blouse and covered peep toe wedges. I found a similar printed blouse from Sandra Ingrish ($54) and wedges from Pour La Victoire Lena ($227.99):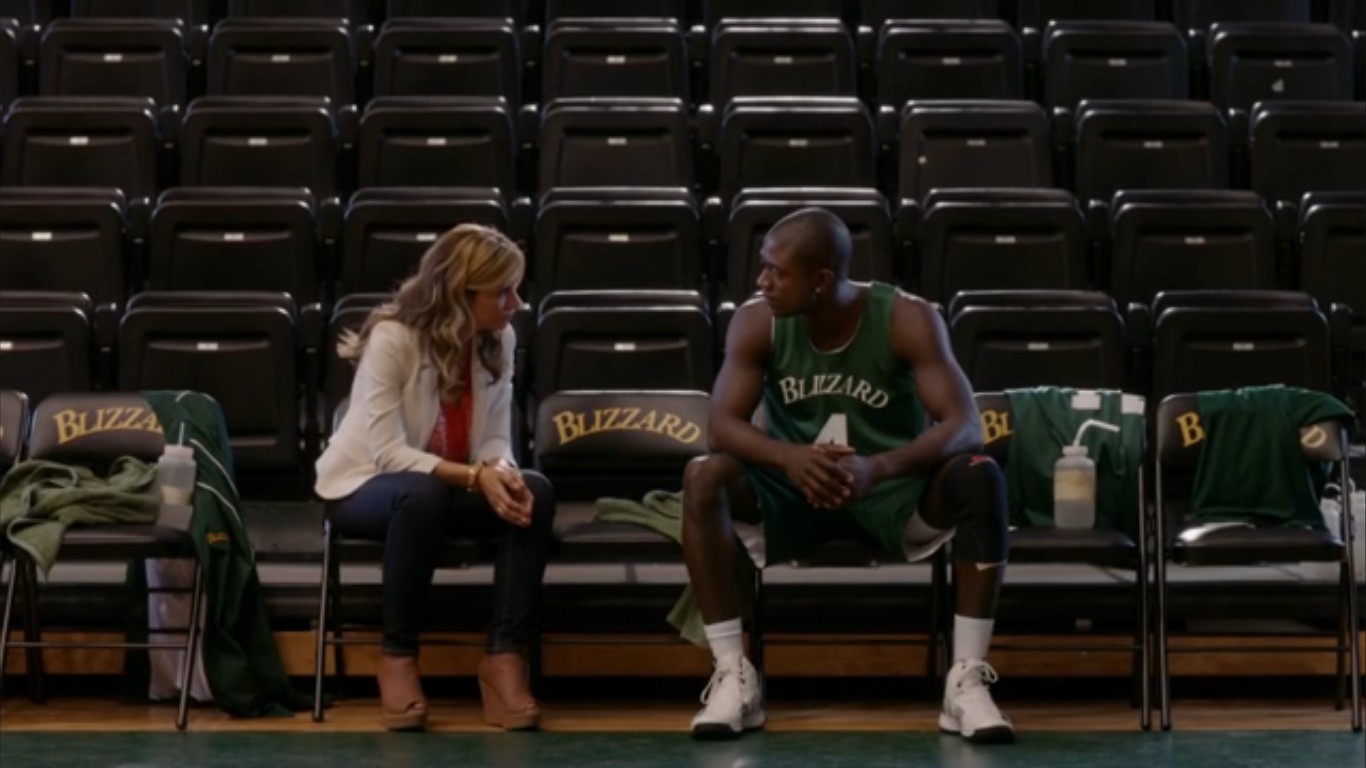 Langer opens up about his mom and he is worried that history will repeat itself. Lana was depressed in the past and tried to commit suicide. Langer wants to keep her happy because he doesn't want her to fall into a depression again. Dani and Langer agree to work through this with Lana.
Nico brings the hacker to Connor and Troy and convinces them to poach the hacker by hiring him to hack SBG. At the end of the episode Nico reveals that he is playing Troy and Connor and that the hack/agency war was an elaborate scheme to get a peek at V3's books. We also learn that Nico is spying for someone, we just aren't sure who it is yet.
Connor ends up getting Langer to come to V3 by poaching Langer's agent. We also learn that Bruce broke Connor's heart. When his father was dying Bruce stole his clients and files and started her own agency. Wow…that is harsh.
At the end of the episode we see Lindsey blowing Dani off for a sleepover and Ray J finally calling her back. This means that she has time to attend the MV3 party. At the party, Dani gets a huge bonus for bringing in new clients and is named the MV3. Dani is still uncomfortable with all of the glitz, glamour and money of this position but I think she will ultimately give in.
Dani wears a Yigal Azrouel Tucked Crepe Dress ($432):
What are your thoughts about this episode? The dynamic between Nico and Dani is interesting. They are still very flirtatious, but he is keeping her at arm's length. I can't see her with Connor though, he is too intense and doesn't seem to be her type.
In case you missed it you can still watch the episode here.
For more Necessary Roughness recaps click here.