On Episode 6 of the Goodwin Games, Chloe (Becki Newton) tries to make friends at college, but it doesn't go very well. Instead, she runs into Ivan (Adam Rodriguez) and finally realizes that he is her old colleague from middle school. Ivan finally asks her out for a drink.
Chloe wears a yellow snakeprint blouse with her Marcie leather satchel bag (as seen in "Hamletta").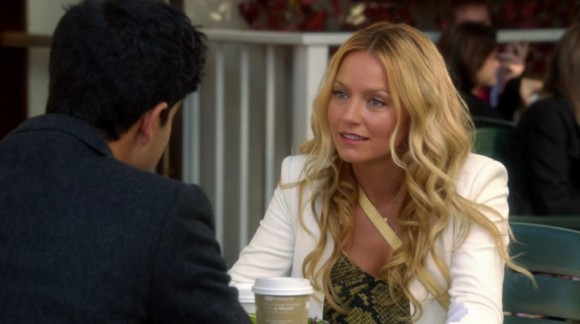 The snakeskin blouse isn't available anymore, but I've found a number of different options that are similar:
Jimmy (TJ Miller) is still trying to find a job, so he decides to play the guitar and sing about his past crimes. Henry (Scott Foley) is sending "boudoir" photos to his fiance, Kate except he accidentally sends it to his ex, Lucinda (Kat Foster). He tries to beat the text, but Lucinda sees it anyways.
This prompts them to have a conversation about why their relationship ended. Henry reveals that he had a breakup speech that he never used. Lucinda refuses to delete the photo until Henry shares the speech with her.
Jimmy asks Chloe to hand out fliers about his new gig, but he acts really weird. She runs into April (Melissa Tang) on her way to the bar and discovers that April used to have a huge crush on Ivan so she invites her to come along on their date.
Chloe wears a Herve Leger Metallic Colorblock Bandage Dress ($179) and BEBE Jacket with a fur collar ($69.99):
ID Source: PopDetour
In an effort to redeem her friendship with April, Chloe tries to set her up with Ivan, which is awkward since Ivan likes Chloe. This makes for a very weird date, since Chloe is forcing Ivan and April together.
Henry meets up with Lucinda at the bar and he still won't give her the breakup speech. Henry tells her that she left him for a man named God (ha!). It's obvious that there are still unresolved issues here. The siblings keep telling Henry that Lucinda is the love of his life.
Jimmy is working behind the bar as his new job. He seems concerned that Chloe would want to set up April and Ivan. April tells Chloe that she doesn't need to set her up with Ivan, but Chloe insists and heads off to leave them alone. Ivan follows Chloe outside and he tells her that he named a star after her (so cute!). She can't help but kiss him and April walks outside and sees them together.
It's time for Jimmy's performance, which isn't very discreet. He sings about his illicit affair with April (I definitely didn't see that coming!) and shares way too much information with the entire town. April finally stops the song before he details their sex positions.
Henry chases Lucinda and they finally get closure with a real breakup. He gives her the breakup speech, which is actually a pretty good speech (minus the Closing Time part). She tells him that if had said that speech to her in the moment, she never would have let him go. If this show were going to continue longer than seven episodes, I bet these two would end up together.
April lets Chloe off the hook and Chloe gets to make out with Ivan. The siblings end the night together but neither of them believe that Henry is over Lucinda. April stops by to say goodnight, but ends up sneaking into the house to spend the night with Jimmy. She tells Chloe it is the last time (I don't buy that for a second!).
For more Goodwin Games recaps click here.
If you missed this episode you can still watch it online here.
What did you think of this episode? Chloe and Ivan are so cute together. Since we've never seen Kate, I am leaning towards Henry and Lucinda together. The next episode is the series finale, I wonder if they will ever bring this show back?